Industrial Lifting Services
If you require heavy industrial lifting services for factory relocation, machine moving, or industrial transportation, contact our lifting experts today. We have specialist equipment for industrial dismantling and plant relocation.

Our expert team have over 30 years of global experience in the lifting and handling industry, offering specialist lifting services throughout the UK, Europe and Worldwide.

Working with industrial businesses and organisations of all sizes and in a huge variety of industries, our ability to solve problems, provide professional solutions has stood us in good stead.

A 'can-do attitude, reliable service and versatile lifting capability have seen us grown to be one of the UK's leading heavy lifting specialists.
Industrial Machinery Relocation
Whether it's simply an internal movement of machinery or removal and relocation of multiple types of machinery to another continent, we at Projector Lifting Service will ensure a smooth and seamless transition
We specialise in overseeing the planning and supervision of the operation to minimise disruption to your business.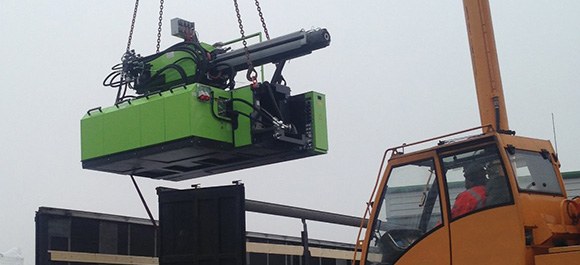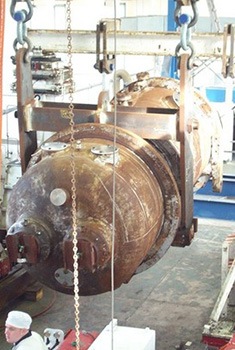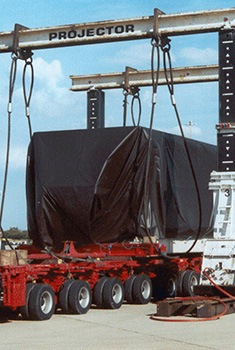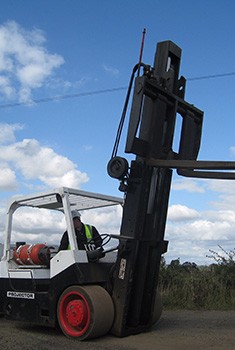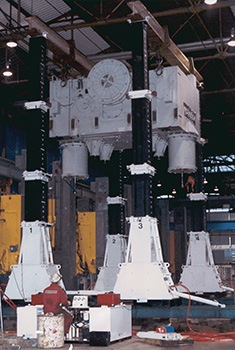 Handling Individual Components
Moving heavy machinery is our forte and, in many cases, provide a practical way to work through heavy structural components and complex plant, which is to either be dismantled and reconstructed or assembled anew.
Moving equipment and activities involved in moving and relocating equipment can lead to damage or impairment when not planned or executed correctly. It is unnecessary and generally could have been avoided simply by using the correct equipment. Based on our experience, the most common issue is attempting to use a crane or large forklift in place of a lift system.
By utilising a dedicated lift system controlled from a central control panel, we can ensure the structural integrity of the pieces are maintained, often because the hydraulic gantry will be lifting the equipment at multiple points.
Transportation of Cargo
As part of our service we can also plan, arrange and execute your specific heavy or awkward cargo transportation needs regardless of the dimensions, weight and type of equipment.
Given our range of hydraulic gantry lifting systems and associated equipment, we are often called upon to complete the complex and straightforward machinery removals.
The experience we can apply, the approach of our expert team and the multitude of national and international projects we've completed demonstrate that our engineers have the knowledge, the expertise and the capability to work out and solve problems that can arise with all kinds of machinery removals even before they embark on the project.
Over the years, we have been involved with many prestigious projects, including:
Generator and transformer installations
Total Factory relocations
Internal machinery relocations
New equipment installation
Assembly, lining and levelling
Securing prior to commissioning
Single machinery removals
Installation and disconnection of Mechanical & Electrical plant
Relocation of plant and machinery
International relocations
Infrastructure
Due to our experience and knowledge in the industry, we play a huge part in the magnificent structures around the UK. We have the required equipment and machinery to install new structures and remove damaged ones.
Construction
We can also help with the construction process of buildings and other significant places around the UK. We are highly trained and qualified professionals, and we work hard to ensure all construction processes run smoothly.
Industrial
Heavy lifting needs to be planned out thoroughly to ensure the process runs smoothly and everything has been risk assessed. We can do all this and work within the professional, manufacturing and public sector to carry out heavy lifting.
Petrochemical, Oil & Gas
Our company delivers petrochemical, oil and gas and carries out the heavy lifting duties at the site where it needs to be. We can also help you plan the entire execution for a stress-free process.
Power Generation
We take great pride in supporting nuclear power stations, wind farms and conventional power stations. We can ensure they run safely and will carry out all heavy lifting duties and transportation services.
Emergency Response
You could need an emergency response for many reasons, and we can help if there is any heavy lifting to do. We want to support our local community and ensure we do everything we can to do so.
Heavy Machinery Lifting
We can lift heavy machinery by dismantling it, transporting it and reassembling it. This could be for the purposes of factory relocation or to carry out a project that is some distance away. If you would like more information or a free quote, please get in touch.
Lift And Shift Services
Our team have been providing lift and shift and heavy lifting services for many years and have worked with a range of different industries and clients. Our service covers all aspects of lifting heavy goods and items.
Stair Climbing
Our stair climbing lift services will overcome most problems of lifting heavy goods up or downstairs.

Our lift operatives all undergo extensive training to ensure complete compliance to health and safety in the workplace procedures and care towards the item being transported and the route required.
We carry out a full risk assessment and method statement for all our stair climbing operations.
Every one of our team members pride themselves on making sure your goods are moved safely and without damage. We have lifted a wide range of fragile items, as well as awkwardly shaped items.

Contact us for Machinery Removal and Lifting

Be it for your industrial dismantling or reconstruction needs, Projector Lifting Service is at your service for your planning, lifting and movement of equipment.
If you are looking for industrial lifting services throughout the UK, get in touch today. We have the relevant expertise to ensure that all your objectives are met satisfactorily. Simply call us on 01234 945 036 or use the form below to forward your enquiry.