Heavy Cargo Transportation
Posted by:
Admin
Tags:
heavy cargo transport
Posted date:
08-01-2019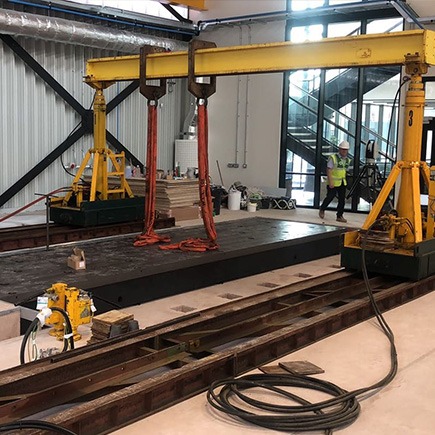 Do You Need Heavy Cargo Transportation?
Are you looking for the definition of heavy lift cargo? In industrial standards, heavy-lift cargo is cargo units that exceed a weight of 100 mt. It can also be used to describe cargoes that are voluminous in size, difficult to handle, require specialised equipment and could be venerable during transit.
As we progress in the industrialisation front, so do the machines, as they need to cope with the volume of work at hand. Industries such as the gas and oil sector, chemicals industries, and others, use the word 'abnormal' to describe these loads. The size of the machinery used to lift this is significant.

We have been at the forefront to provide our clients with solutions to their logistical nightmares to ensure that their business does not halt. We provide all-round logistics service from loading, transporting and even discharging the cargo safely on delivery to you as our client.

As the industries pop up virtually anywhere within the globe, transport of these humongous machines or equipment is warranted. To fill this gap, many logistics and transport solution providers have been building even bigger vessels.
Our portfolio on heavy project cargo includes:
Oil and gas rigs in open seas
Large helicopters

Yacht deliveries or sea supply vessels

Power plant equipment

Housing units

Heavy electrical transformers
Heavy construction equipment

Railway engines or cars

Heavy machinery

Cargo can be classified into two categories:
Dry and break bulk cargo
Break-bulk is the type of cargo that can be bundled into a unit through the proper organisation and stored ready for transport in a container. Containerisation is becoming a popular means of transporting cargo all over the world. Many have preferred the mode of cargo storage and transportation thanks to its efficiency and ease of use.
This mode of cargo handling has not quite reached its peak. However, with increased use by the current economic climate and new world economies such as India and China, it has gradually bloomed.
Project cargo transport
In broad terms, project cargo can be defined as the transport of colossal and prodigious high-value equipment or parts, which are intended for a particular project anywhere within the globe. Since the equipment or plant is heavy, voluminous, delicate and amorphous in shape, its transport as one piece can be an intricate affair. Some cargo can barely fit inside the standard 20-foot container. This warrants the cargo to be referred to as project cargo.

This calls for disassembly of the equipment so that the parts can be shipped individually, making it easier and more manageable. Once the cargo arrives at its desired destination, it is reassembled back together.

Such creative and outside the box solutions have become more popular internationally. It cuts costs and eliminates the risk of accidentally damaging the delicate equipment during transportation.

A good example of project cargo includes wind turbine blades from the manufacturer to the site location. Considering their delicate nature and bulkiness measuring a staggering 290 feet in length and 13 feet in width, they require a specialised or customised vessel to be transported. To get an actual picture of the cargo size, an Airbus 380 wingspan measures in at 261 feet long, just a foot longer than the wind turbine blade.
Such large cargo can be transported via air, sea, and land. However, we currently provide project cargo logistics solution via road only.